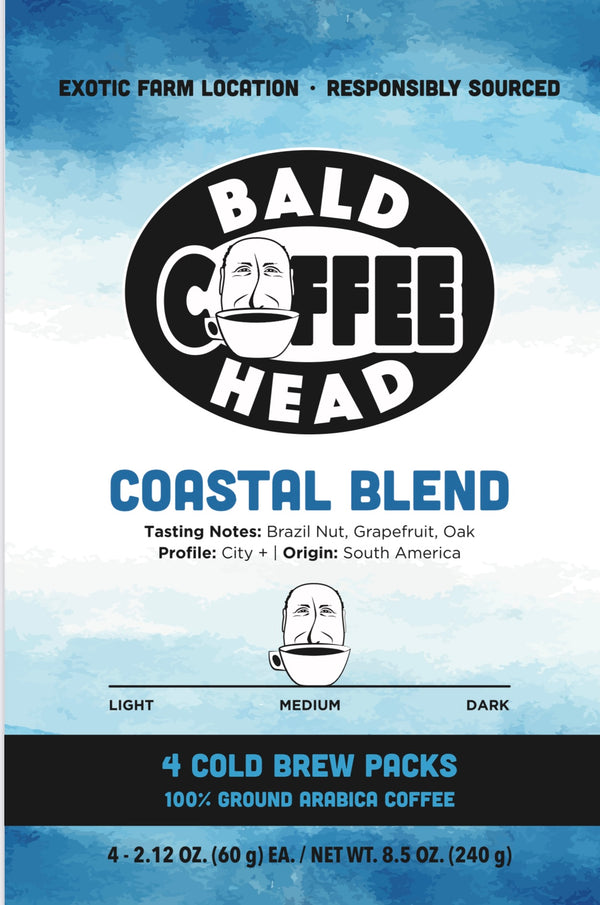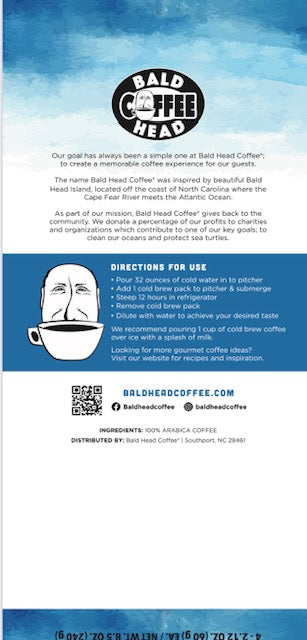 Cold Brew Pitcher Packs by Bald Head Coffee® new 4 pack
Cold Brew Coastal Blend Coffee Pitcher Packs 
Tasting notes Brazil Nut, Grapefruit , Oak 
Profile City + Origin South America 
Includes:
100% Ground Arabica Coffee 

Net Wt. 8.5 ounces 240 grams 4-2.12 ounces 60 g each

4 pouches

Directions for Use:
1. Pour 32oz. of cold filtered water into a pitcher.
2. Add 1 pouche of Cold Brew Coffee into the pitcher and submerge to make your concentrate.
3. Steep 18-24 hours in the refrigerator.
4. Dilute with water to your taste.
We recommend pouring 1 cup of cold brew coffee over ice with a splash of milk. Looking for more gourmet coffee ideas? Visit our Bald Head Coffee Cold Brew recipe page for additional recipes.
Distributed by: Bald Head Coffee® Southport, NC 28461
 The pouches are compostable.
Roast Level: Medium
Acidity: Low
Body: Smooth
A Bald Head Coffee® favorite the Coastal is a medium roast with good body and lively acidity to get you through the day. Swiss Water Process.