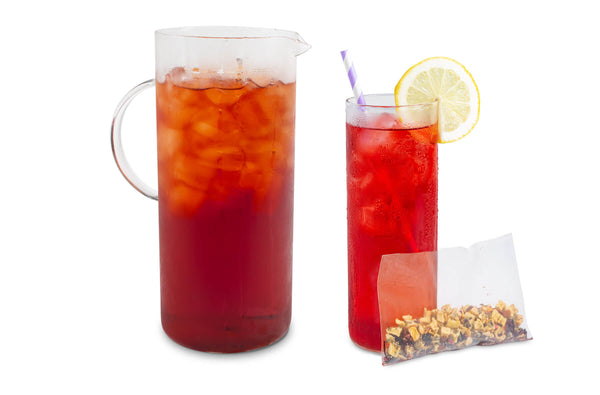 Pomegranate Herbal Caffeine Free Iced Tea Sachets
Lightly spiced with cinnamon and ginger to accent the gently sweet notes of pomegranate and provide a warming tingle on a chilly fall day. Hibiscus and rose hips add lively layers of flavor. This Herbal tea is naturally caffeine-free!

Blended with Apple Pieces, Rose Hips, Hibiscus, Cinnamon, Ginger, Natural Pomegranate Flavor , Rose Petals, Raspberries & Orange 
Each sachet contains 10 grams of tea. Makes 32 ounces each.

Each pouch contains 5 sachets - each sachet contains 10 grams of tea and makes 32 ounces of tea. Steep 1 sachet for 18-24 hours in a pitcher with 32 ounces of fresh cold water.